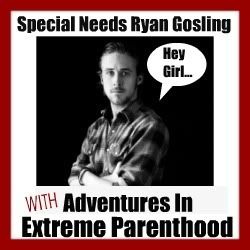 For about five weeks now, Sunday over at Adventures in Extreme Parenting has posted pictures of Ryan Gosling uttering supportive special needs lingo in a "Special Needs Ryan Gosling" meme that has swept the special needs blogosphere. And for about five weeks now I've told her I find this meme sexist and demeaning to men.
Not really. I mean. . . I've really been telling her that, but I don't really find it sexist or demeaning. It is a hard truth for a daddy parent blogger that your parent blogger peers are 95% women. As such I'm not invited to participate in the "Circle of Moms", or "Blogher", "Sits Girls" or "Bloggy Moms" circles that moms utilize to spread awareness about their blogs. But I'm not bitter. Like the groundbreaking male bloggers who went before me, I'll just have to work twice as hard to get half as much exposure as my female peers. It's hard being a man blogging in a woman's blogging world.
But enough about my daily struggles against sexism. The meme is pretty friggin' amusing (btw, I said "friggin" last night and the audible scandalized gasp that my almost 10 year old daughter Emma dramatically uttered was classic) and I invite you to link through the various participants you'll see on Sunday's page to see what THEY think Ryan Gosling might be saying if he were your significant other. . . or you!
So today. . . my participation: