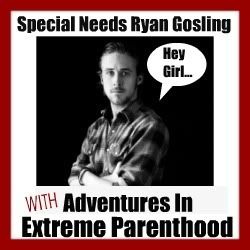 I missed week six of Adventures in Extreme Parenting's "Special Needs Ryan Gosling" meme owing to Emma's turning 10 and the postings therein related. I vowed to return however, for week seven.
Since 99.8% of the participation is by "mom" bloggers, the interpretation generally seems to be "pretend as if Ryan Gosling is your significant other, and fill in the blanks, fantasizing about how supportive and awesome he'd be".
My take however, is that Mr. Gosling is ME.
We're almost the exact same guy anyway. He probably dresses better. Regardless
. . this would be me talking to MY significant other.
Without further adieu, today's participation: