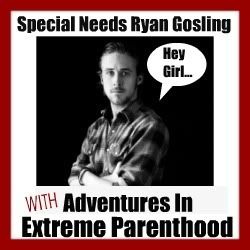 So. . . for Adventures in Extreme Parenting's "Special Needs Ryan Gosling" meme THIS week, I departed a little from the special-needs-centricity of previous posts and just got real.
To recap, since 99.7% of the participation is by "mom" bloggers, the interpretation generally seems to be "pretend as if Ryan Gosling is your significant other and or side project, and fill in the blanks, fantasizing about how supportive and awesome he'd be".
My take however, is to interpret Mr. Gosling as ME. So I write my meme's as if it's me saying the words, and as supportive and awesome as I am. . . I'm only a man. Sometimes I can be kind of a dumbass too.
Today's Ryan is all intense and showing off some indecipherable ink he's had done on his arm.
Without further adieu, today's participation: