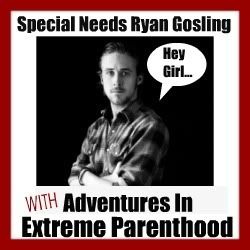 I missed weeks 8 through 13 of Adventures in Extreme Parenting's "Special Needs Ryan Gosling" meme owing to the um. . . thing with the um. . . stuff. Also, despite indicating about two months ago that I had some special magical idea (which I totally still have) the below-captioned masterpiece is NOT it.
To recap, since 99.7% of the participation is by "mom" bloggers, the interpretation generally seems to be "pretend as if Ryan Gosling is your significant other and or side project, and fill in the blanks, fantasizing about how supportive and awesome he'd be".
My take however, is that Mr. Gosling is ME.
We're practically the exact same guy anyway. He probably dresses better with the exception of today's picture. Regardless
. . this would be me talking to MY significant other. I AM the Ryan Gosling of Daddy Bloggers. . . you know. . . until further notice.
Without further adieu, today's participation: