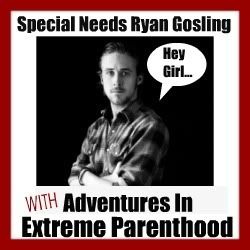 I am TOTALLY on top of Adventures in Extreme Parenting's "Special Needs Ryan Gosling" meme for TWO WEEKS IN A ROW!! Plus, also, it was important to put some distance between yesterday's friggin' magnum opus and the blog in general. I don't want to SCARE people.
To recap, since 99.7% of the participation is by "mom" bloggers, the interpretation generally seems to be "pretend as if Ryan Gosling is your significant other and or side project, and fill in the blanks, fantasizing about how supportive and awesome he'd be". And also, I might add, there seems to be a pervy special needs mom-blogger element (also approximately 99.7%) that manipulates Mr. Gosling into . . . lewd situations. *blushes demurely*
My take however, is that Mr. Gosling is ME.
We're practically the exact same guy anyway, except he wears WAY more flannel than I do. Regardless
, this would be me talking to MY significant other. I AM the Ryan Gosling of Daddy Bloggers. . . you know. . . until someone prettier comes along.
Today's Ryan looks so sad-face. I guess when you look like Ryan looks, it doesn't matter HOW ridiculous your pictures are, when they're asking you to pose you just say, "Curled up in a ball? Sure." Then you point at yourself and say, "Gosling. . . duh!" And women swoon and start memes about you.
Without further adieu, today's participation:
You know this is you. Don't bother denying it.